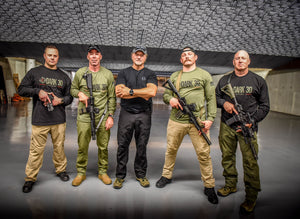 NEW COLLECTION HAS ARRIVED WITH MORE TO COME!
O Dark 30 is a modern men's clothing line designed to tackle the most rugged workplaces and back-country adventures.
Made for those looking for gear with a superior quality and fit to empower their fearless challenges.
Comfortable, Durable and Functional with Timeless Style
Check out our newly launched tops and coat collection. Additional product categories will launch monthly.
SHOP NOW
FOUNDED BY LENNY DEPAUL
A highly decorated retired US government agent serving in the U.S.Navy, U.S.Secret Service, and U.S.Marshals Service, Lenny is a Law Enforcement Icon, Reality TV Star, and board member for several foundations - all where his criminal investigative experience is utilized.
Lenny's passion for the criminal justice community, and hands-on expertise makes him one of the most recognized, and respected man-hunters in the world.
He has learned first-hand, "What you're wearing, and what you're carrying" is fundamental to being mentally and physically prepared.  
WE SUPPORT THE PEOPLE WHO PROTECT
Our mission is to provide ongoing support to non-profit organizations that help military members, federal, state, and local law enforcement and their families in times of need.
As of part of our #ODARK30GivesBack program, we donate a portion of our profits, sell products to raise funds, and our team volunteers their time. Every minute and dollar count toward our mission to provide the ongoing support they need.